Photo: Norbord
Collaborators & Contributors
In this section we acknowledge collaborators and contributors to this report.
Thanks to Our Partners & Collaborators
This report has been improved by important contributions from many organizations and individuals. More details about our collaborators and contributors are available below.
---
Introduction
The ABMI benefits from the strong support of various partners and collaborators, from our delivery partners (InnoTech Alberta, the University of Alberta, the Royal Alberta Museum, and the University of Calgary) to our many generous sponsors. A list of these vital contributors is available via the ABMI website, here.
Additionally, many organizations and individuals contribute data and expertise that enhance our program and the data and information products that result. Those who made specific contributions to this report are acknowledged below.
We are grateful to all of our partners and collaborators for their ongoing operational, financial, and scientific support.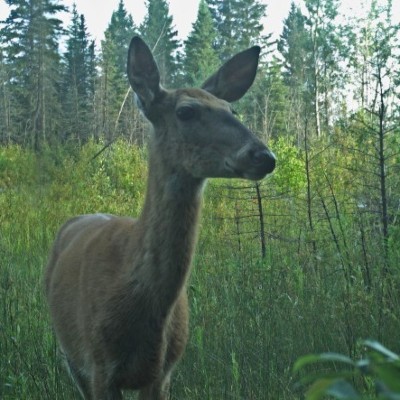 White-tailed Deer (Odocoileus virginianus)
Photo: WildTrax
Contributors
Ecosystem Services Assessment
The Ecosystem Service Assessment (ESA) project was initiated in 2013 by the ABMI and its consortium of collaborators, including Alberta Innovates, InnoTech Alberta, Alberta Government, Silvacom, University of Alberta, and University of Guelph. The ESA project aimed to develop integrated systems that assess and map multiple critical ecosystem services across Alberta. As one part of this project, a spatially explicit modeling approach was used that employed forest growth yield curves from Natural Resources Canada and carbon storage equations from the Canadian Forest Sector to simulate forest growth, a carbon budget, and timber production processes. In addition to the ABMI data, key data inputs were also obtained from the: Government of Alberta, Environment Canada, Natural Resources Canada, and Silvacom. Further details about data used for these analyses are provided in Kennedy et al., 2014.
Gordon Stenhouse
Gordon Stenhouse was the program lead for the fRI Grizzly Bear Program from 1998 to 2021. This long-term research program involved a multi-disciplinary team of scientists supported by a host of forestry companies, energy firms, and provincial and federal government agencies. The program goal was to provide knowledge and tools to ensure the long-term conservation of grizzly bears is Alberta. This research has resulted in the publication of over 175 research papers in scientific journals. In addition, using 23 years of GPS radio telemetry data from collared grizzly bears, along with remote sensing habitat and landscape change mapping, the GBtool was developed to promote grizzly bear conservation and recovery. For more information on this research program, please go to: Grizzly Bear Program | fRI Research.
This report is in partnership with